A Family-Run Operation: Char Vale Vineyards and Winery
Char Vale Vineyards and Winery are family run. We have been producing wine, from our estate grown grapes, since 2014 and recently opened an on-site, tasting room overlooking our vineyard, in the Green Valley of the Russian River Valley Appellation. We are located North of Sebastopol, one mile west of Highway 116 on Occidental Road at 9280 Occidental.
Our goal is to produce the very best chardonnay, rosé of pinot noir, and pinot noir wines for you to enjoy. Our production is small and our wines are carefully nutured by winemaker, Tim Callahan. The 2017 harvest of estate grown Pinot Noir was 18.5 tons. The picture below shows us moving grapes from the bulk picking containers to the destemmer. These estate grapes are used to make all of our pinot noir wines. The grapes used in our chardonnay wines come from a selected, single vineyard in the Carneros appellation of Sonoma County.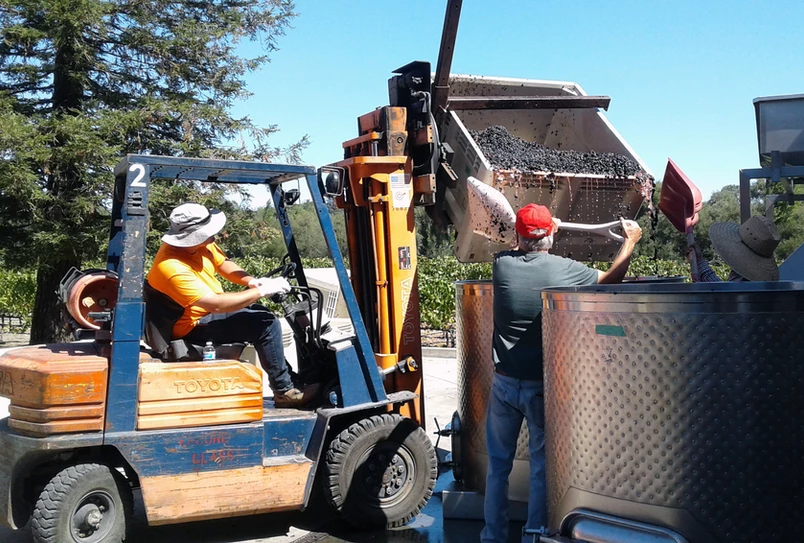 Wines currently available for tasting are the 2014 and 2015 vintage chardonnay and pinot noir wines and a 2016 rosé of pinot noir. Last month we bottled our 2016 vintage chardonnay and pinot noir wines and look forward to offering them to you in the coming months. The 2017 vintage grapes have finished fermentation and are aging in oak barrels in the winery.
The tasting room is open daily, Thursday through Monday from 11-4:30. Given our small size, if you have a group larger than six, please call ahead for an appointment (707-827-6102). We will be happy to accommodate you but appreciate the ability to plan ahead.
To thank you for your appreciation of our wines and make it easier for you to enjoy and share Char Vale wines during all the upcoming holidays, from now until December 31, 2017, our wine prices will be 15 % off for the chardonnays and pinot noirs and 10% off the very limited release rosé. These sale prices are available at the tasting room, or by calling us at 707-827-6102. Wine club members, who usually receive 20-25 % off on wine purchases, will receive an additional 5 % off during this period.